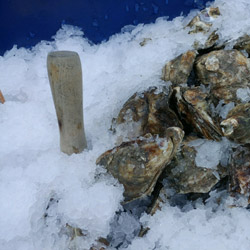 Welcome to Upper Crustaceans. Imagine the idea of freshly opened clams and oysters, from up and down the Eastern seaboard, shucked to order for your guests at any styled event.
Whether you are planning a corporate event, looking for an interactive experience at your cocktail party or any other special occasion, a raw bar is a fun, entertaining way to show your guests a little bit of New England.
Experienced shuckers not only know their craft but can explain the differences in one of nature's most fascinating and special delicacies. Perhaps even a few shucking lessons may be involved and remember, while you will enjoy the fabulous briny taste of freshly shucked oysters…we keep the pearls.